Since we are so connected today, this will become a normal trend in the future. This is why you have to step up your game to be more successful with video interviews.  To be successful, you have to know the basics.
Here are some tips for Video Interviews
PRACTICE SPEAKING IN FRONT OF THE CAMERA

One of the things you want to get comfortable with is speaking in front of the camera. You want to give the impression that you are communicating directly with the interviewer or the people on the other end. 
The best way to do that is to look at the iris of the computer which is usually located at the top of the screen if you're using a laptop or desktop. You can shrink it down a little bit and move as close to the iris as possible. 
Doing it that way makes it appear as if you're looking directly into the eyes of the interviewer while you are answering their video interview questions.
IF YOU'RE USING A CELL PHONE
If you're on the road and a cell phone is all you have, that's perfectly fine.   However, you must have something to prop the phone up with – either a stand, book, or anything that can hold your phone. 
Make sure to look at the iris of your phone's camera instead of the screen to make it appear as if you're looking directly into the eyes of the interview panel. You can apply the same logic with a desktop/laptop computer.
However, if you don't have a stand, make sure that you're holding the camera firmly without rocking back and forth. This makes the people on the other dizzy on the other end. Hold the camera firmly and let it stay in one place. 
Remember, you are in a formal interview and not making a youtube video (even then, you still want camera stability). 🙂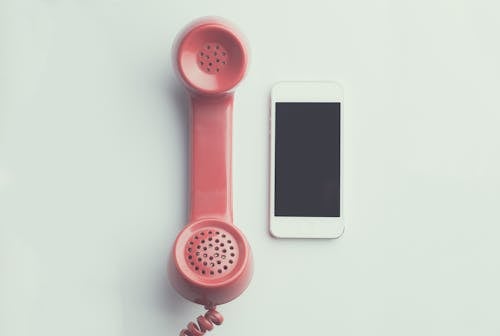 BE MINDFUL OF VIDEO LAGS
Interviews can be done on a variety of platforms such as Skype for interviews, Facetime, or Skype, or ZOOM.  This is why, before going on an actual interview, know what platform will be used and try to practice.
Therefore, when you're giving your answers or conversing with the interview panel on the other side of the video camera, give a little bit of time in between your answers — 1 to 2 seconds just to make sure that they caught everything that you wanted to say just to be safe.
Pace your dialogue properly. However, do not talk so slowly like you are in slow motion – this will just annoy your audience. Normal tone and pace with small gaps are all you need. 
In a perfect world, internet connections are 100 percent flawless. But when it comes to video interviews, our internet connections are not always as stable as we want them to be. The goal is to make sure that whatever we want to say comes across clearly without any issues. 
Bear in mind that the number of devices on your network can affect your internet speed. To check your internet strength or your signal, you can go to Google and just type in "internet speed test" to find your signal strength. Ookla.com is a great one or finding one in a Google/ Bing search will give you some good results. 
5 MBPS is a good bandwidth to constantly stream video without any interruptions. Make sure that you have consistent speeds by doing multiple checks before an actual interview. 
If your internet gives out during the interview, don't worry! Most interviewers completely understand your situation if that happens and won't hold that against you. 
Just dial back into the interview and if you're brave, crack a small joke about the internet to lighten the mood. 🙂
SHOW UP EARLY

Another way to show your interest in the job and not only appear more prepared but feel more prepared is to show up early for the interview. It gives the interviewer the impression that you really want the job and you're excited to get started. 
You want to make sure that your computer has enough battery life before getting started. This is a simple but easy item to overlook. 
You have enough to think about and you want to be prepared for everything in order to start and finish this video interview without a glitch. A good idea is to sign into a video interview about 10-15 minutes before it, actually, starts. This will give you enough time to set up, check your background, your lighting as well as audio and video settings.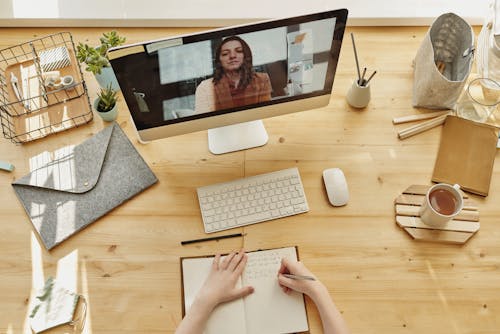 PREPARE
Being professional is being prepared, and being prepared adds confidence.
Set up a mock video interview practicing your answers over video interview. Try to do mock interviews with a friend or colleague. If you're looking for the top interview questions, you can download them here: https://bit.ly/2SKJgis
Tip: Switch out "school" with "job" or any other combination that makes sense.
RESEARCH
Do your research about the company and complete any preparation that you would normally do for an in-person interview. Make an effort to learn everything that you can about the company or the work required for the job. 
You can use search engines will be your friend to equip yourself for the application process. More knowledge about the company can help you answer difficult questions such as where you see yourself in five years.
Watch this video here: How do you see yourself in Five Years.
TREAT IT LIKE AN IN-PERSON INTERVIEW
There is no such thing as a video interview dress code or a video interview outfit. The rule of thumb is to treat video interviews as if it is a real interview and you're sitting right in front of your interviewer or a panel of people. You have to physically look good and dress really nicely. Looking good boosts your mood for the interview and gives you confidence.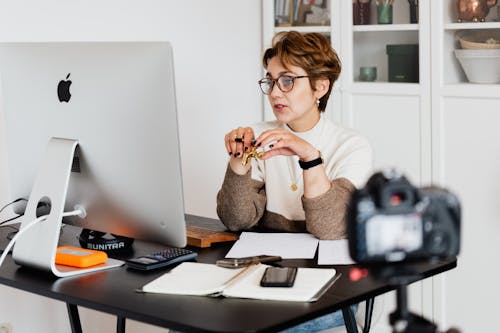 ELIMINATE DISTRACTIONS
Always focus on your video interview screen. Avoid typing during a phone call especially during a conference call and make sure there are no papers rustling or other things rattling around.  
If you're taking notes, then make sure that you take notes on something like a notebook or a sheet of paper or just something that is not going to make a lot of noise on the other end of the video.

Also, keep in mind that they can actually see you. So, make sure that there is no unnecessary activity on your end.  
If your kids make noise, or the dogs start barking, just apologize and move to a quieter room. People are more lenient with background noise since most people are working from home these days, more than likely they will understand.
CLEAN BACKGROUND
You also want to make sure that you don't have any distracting background. You don't want to have any crazy patterns, odd pictures, or anything in the background that's just going to attract their attention. 
The interviewer needs to be focused on your face and the things that you are saying during the interview, so eliminate background distractions.

GOOD LIGHTING
You should have good lighting when you have your video interviews. Make sure that the people on the other side of the video camera can actually see you. 
By seeing your face, your interviewers can interact with you a lot better and engage more in a conversation with you. 
Having a shadowy figure will not help you at all. Find a place with good natural light, or go to a spot with bright lights that highlight your face.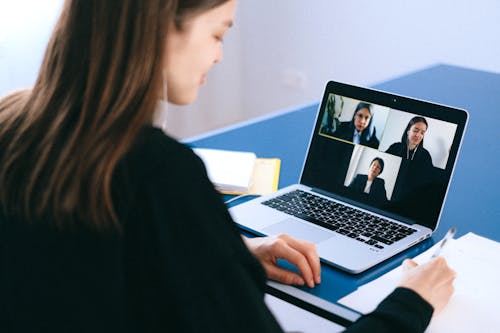 ***
Using these tips will help you stand out and prepare you for your video interviews.
Looking for questions to ask in an interview? Check out this video here. 
Download the full list of questions to ask in an interview here: https://bit.ly/2X2ABZZ
(Visited 991 times, 1 visits today)
Comments
comments